International Undergraduate Programme in Medicine
Faculty of Medicine
Universitas Gadjah Mada, Yogyakarta
Profile
Established on 5th of March 1946, Faculty of Medicine Universitas Gadjah Mada (FM-UGM) has grown and developed rapidly over the years. FM-UGM has positioned itself to become a leading university in Indonesia, Asia and in the world. In October 2010 UGM is accredited in A category by National Acreditation Board of Higher Education (BAN PT). TIMES Higher Education Series has placed FM-UGM in rank 153 in 2010 for its Life Sciences & Biomedicine category.
According to THE-QS World University Rankings 2010, FM-UGM is ranked 23 in Asia for Life Sciences & Biomedicine and in 2011 is ranked 21 in Asian University 2011 for Life Sciences and medicine category.
Located in a campus with tropical climate, nice atmosphere and provided with various facilities that support education, research and community service, FM-UGM has 3 undergraduate programmes, 6 master level programmes, 20 specialization programmes, and 1 doctoral programmes.
As for research activities, they are carried out by scientific community whom are also actively involved in teaching. Their work advances the understanding of health problems affecting millions of people. Studies range from basic biomedical investigation of nasopharyngeal carcinoma to analyses of health care decentralization. The faculty has consistently succeeded in attracting collaboration partners and funding agencies to support these myriads of research endeavors.
International Undergraduate Programme in Medicine
The Faculty of Medicine offers the Basic Medical Education Programme:
Bachelor Phase; Length of Study: 3 years and 6 months.
Degree awarded: Bachelor of Medicine (B.Med).
Clinical Phase; Length of Study: 2 years.
Degree awarded: Medical Doctor (M.D).

The programme aims to educate students by applying a teaching-learning processes that compels the completion of a curriculum package in order that students obtain sufficient knowledge, skills and behaviour.

Starting 2007/2008 academic year, the Faculty of Medicine Universitas Gadjah Mada applies the Competence Based Curriculum (CBC) according to the standards imposed by the Indonesian Medical Council in 2006.

The curriculum model used is competence-based education. This model requires integration of scientific disciplines and a multidisciplinary approach in curriculum delivery. A balance between specific and general courses is obtained, in each block as the learning outcomes are mixture of generic and specific competencies.
The purpose of CBC is to ensure that all medical graduates in Indonesia possess the same standard of competence, according to those approved by the Indonesian Medical Council. In CBC, a doctor's competencies encompass seven areas of competence, which are:
Effective Communication
Clinical Skills
Basic Medical Sciences
Health Problem Management
Information Management
Self Awareness and Personal Development
Ethics, Moral, Medicolegal and Professionalism, and Patient Safety

Note
Students of the International Undergraduate Program Facultyof Medicine are obligated to do elective programme after year 3, the costs for this programme are born by each individual student at cost. Limited scholarships are available based on tight selection.
Regular programs of Faculty of Veterinary, Faculty of Pharmacy, and Faculty of Dentistry are offered for overseas students with limited seats (through the admission test in Kuala Lumpur).
Curriculum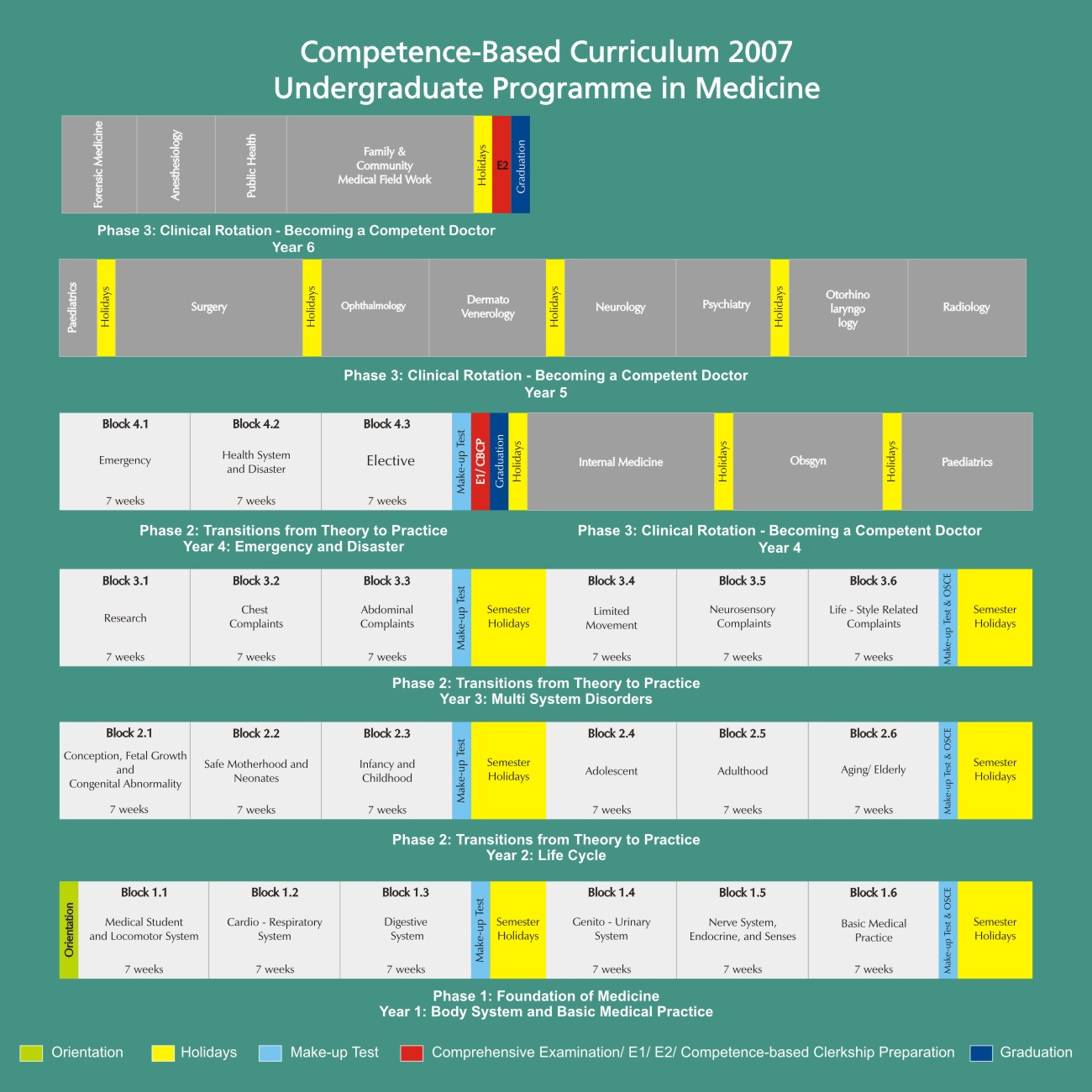 ADDRESS
Secretariat of International Programme Faculty of Medicine UGM
Jl. Farmako, Sekip Utara
Yogyakarta 55281
Indonesia
Telephone: +62 274 558323
Facsimile: +62 274 558324
Email: prodidokter@ugm.ac.id
Website : fk.ugm.ac.id