International Undergraduate Programme in Medicine, Faculty of Medicine UGM
International Undergraduate Programme in Medicine
Faculty of Medicine
Universitas Gadjah Mada, Yogyakarta
Faculty of Medicine (FM), Universitas Gadjah Mada is the oldest medical faculty in Indonesia builds on Mach 5, 1946. Thousands of alumni have been graduated and coloring the world of health in Indonesia and the world. Undergraduate study program as part of the FM take advantages to exploit the FM which has 6 master study program, 20 specialties, and 1 doctoral studies program, 9 study centers for teaching and learning. The undergraduate study program vision is 'to be the excellent national medical education program that innovative, globally standard and superior, as well as serve the interests of the nation and humanity with professional human resources support'.

In the academic year, 1992/1993 FM started implementing the curriculum of medical education based core curriculum of medical education Indonesia (KIPDI) with the strategy of Problem Based Learning (PBL). Furthermore, began in 2003/2004 utilized integrated curriculum in 21 blocks with PBL approach. In the academic year 2007/2008, did the previous modifications to keep using PBL. Initiate in the academic year 2013/2014, a new curriculum tailored to Indonesian medical doctor competency have been implemented SKDI 2012 by study program integrated into the blocks and PBL strategy.
Some of the achievements that have been achieved by undergraduate study program on medicine FM UGM
According to Webometrics – 2014

First Rank in Indonesia
Ranked 12 best universities in South-east Asia

For International College University (4ICU) Asia Ranking
26th (2012); 53rd (2011)
First in Indonesia

THE-QS World University Ranking

in 2011: FK UGM is ranked 21 in Asia for Life Sciences and Medicine category
In 2010: FK-UGM is ranked 23 in Asia for Life Sciences & Biomedicine

Accredited in

A category by National Accreditation Board of Higher Education (BAN-PT) – 2015, also a category by LAM PT KES (2015-2019),
Overall verdict 4.77 of 7 scales by AUN-QA 2009
Philippine Accrediting Association of Schools, Colleges and Universities (PAASCU) (2016-2019)
ISO: 9001 : 2008 Quality Management System – (2015 – 2017)
CBT national exit exam rank 1st of 65 institutions 2014- 2015 (4 times)
Pass of national exit exam: 97,43% (CBT), 99,63% (OSCE), 97,06%
Benchmarking to LCME (Liaison Committee on Medical Education) USA
Learning stages to be followed in undergraduate study programs FM UGM
Bachelor Phase (undergraduate education phase)
Length of Study 3,5 years
Study Load is 165 Credit System Unit (CSU)
Student Degree: S.Ked (B.Med)
Clinical Rotation Phase
Length of Study 2 years, after graduating the Bachelor in Medicine
Study Load is 44 CSU
National Exam on Medical Student's competency (Uji Kompetensi Mahasiswa Program Profesi Dokter)
Student Degree: dr (dokter) or MD (Medical Doctor)
Internship
This is compulsory program developed by the Indonesian Medical Council for a period of one year in rural areas throughout Indonesia.
Admission requirement
There are two programs:
Regular program
Applicants graduated from high school degree at last three years
Passed entrance examination which the methods and criteria are determined by Government. Several national selection scheme were SNMPTN (30-50% intake), and SBMPTN (30% intake), and UGM intake was 20-40%. However in 2016, the percentage SNMPTN intake became 35,35%, SBMPTN 27,78%, and UGM intake were 35,86% (the percentage distribution possible change annually depend on the government policy).
In a good health condition
Entrance examination include: academic potential test, basic academic test (mathematic, chemistry, physics, and biology), Bahasa Indonesia, and English.

International program
Applicants form Indonesia or other countries graduated from high school degree at last three years
For Indonesian: passed entrance examination, include: basic academic test (mathematic, chemistry, physics, and biology), Gadjah Mada Scholastic test (GMST= a psychological test), English, Situational judgement test (SJT) and MMPI. For student from other countries passed entrance examination of basic academic test (mathematic, chemistry, physics, and biology), GMST, and interview.
In a good health condition
The difference Regular and International program.
Mostly around 90% course program between regular and International program are similar. The differences include students involve in International program, lectures held using English as the language of instruction, learn international health system (in block D2), and obligatory to have experience studying outgoing out-country in elective block (block D3).
Highlight
Intercalated Master Programme (IMP)*

This Program is offered for students who are able to complete their undergraduate degree in time (3,5 years) and with qualified GPA. They may continue to pursue Master Programme to our partner universities and sit back to UGM to continue their Professional Phase. The partner universities are as follows:


University of Sydney, Australia
University of Melbourne, Australia
Maastricht University, The Netherlands
University of Groningen, The Netherlands
Vrije Universiteit Amsterdam
Erasmus MC Rotterdam
Tubingen University, German
University College Dublin, Ireland
Umea University, Sweden
*The scheme of this programme is as follow:
Finished Undergraduate programme in UGM within 3,5 year > IMP to preferred university > continue Professional Phase in UGM.
Elective Program

This Program is obliged students to follow one elective module abroad to be converted in their 3 credit semester units which equals to 3 weeks activity (48-60 hours). Scholarships are available for selected students.
Curriculum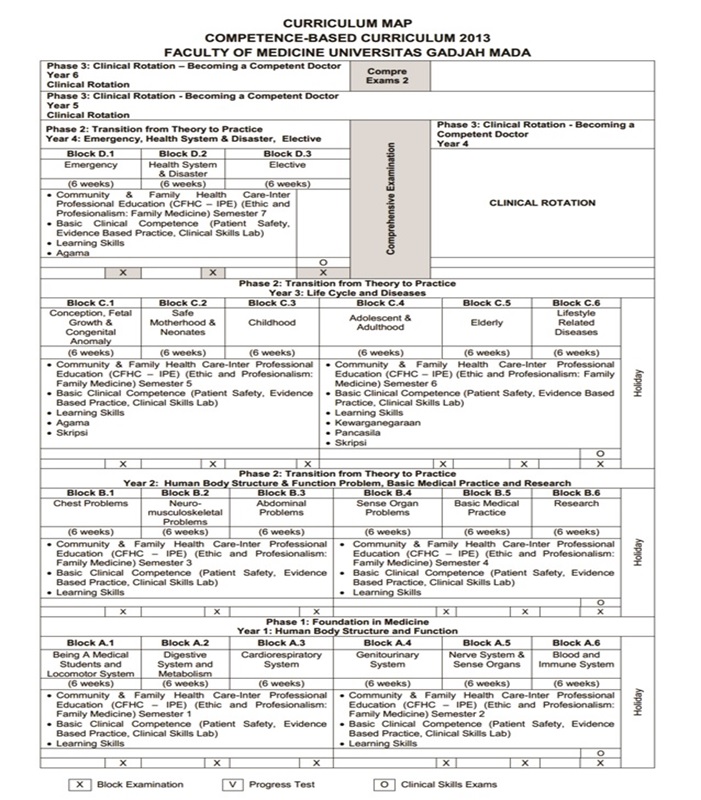 Secretariat
Undergraduate Programme in Medicine
Faculty of Medicine UGM
Grha Wiyata Building, Jl. Farmako Sekip, Yogyakarta 55281 Indonesia
Telp.: +62 (274) 560300#704
Fax.: +62 (274) 558324
Website: http://fk.ugm.ac.id
Contact
Faculty of Medicine Universitas Gadjah Mada
Jl. Farmako Sekip Utara, Yogyakarta 55281 Indonesia
Phone.: +62 (274) 560300
Fax.: +62 (274) 558846
Email : fku@ugm.ac.id
Website: http://fk.ugm.ac.id
Structure Fee
Faculty
Fee(s)
Application
Tuition /semester
Remarks Nationality
Medicine
Rp. 1.500.000,00
Rp. 40.000.000,00*
Bachelor Phase
for Indonesian students
Rp. 45.000.000,00*
Professional Phase/clinical rotation

Rp. 60.000.000,00*

Bachelor Phase
for non-Indonesian students

USD 225

Rp. 65.000.000,00*
Professional Phase/clinical rotation
NOTE
: *Outgoing Elective Exchange Program and Final Project Research costs are not included.

Admission Period of First Intake, click here.

Admission Procedures
Sign up for an application account at um.ugm.ac.id, here.
Complete the online application form and upload the following documents (minimum 150 kb and maximum 800 kb):



For applicants who graduate in 2016 and 2015
For applicants to be graduated in 2017

Colored Photograph

Colored Photograph

ID Card (SIM/KTP/Passport/student card)

ID Card (SIM/KTP/Passport/student card)

High school graduation certificate or SAT/A-Level/International Baccalaureate or equivalent certificate

High school academic report from grade 10 to 11 and the first semester of grade 12

Health and non color blindness Certificates

Health and non color blindness Certificates

Academic Transcript / National Examination Final Score transcript (SKHUN)

Certificate ITP TOEFL/IBT TOEFL/IELTS (if any)
*Min score: 500/59-60/5.0

Certificate ITP TOEFL/IBT TOEFL/IELTS (if any)
*Min score: 500/59-60/5.0

Pay non refundable application fee via Multi-Payment System of Bank Mandiri, BNI, BRI, BSM, or BTN as described here.
Print application form, if you can not print the application form or your online application fail, please contact us at phone number 0274-6491808 or 0274-551222.
Admission Card can be printed here three(3) days before admission test date.
Eligibilities
Indonesian Candidates
Graduates of the last three years
Indonesian High school qualification (Exact Sciences/IPA)
A-Level qualification or
IB qualification
*Compulsory subjects are Biology and Chemistry
Non color blindness
Overseas Candidates
Maximum age is 25 years old on 18th of May for each admission period
Institutional TOEFL score of at least 500 (paper-based) or 173 (comp.-based) or 61 (internet-based) or IELTS score of at least 5.00 or MUET score of least at Band 4.00
*For Double Degree applicants: IELTS certificate with minimum score 6.5
STPM qualification with minimum CGPA 3.00 (in 4.00 scales) / 3B for science subjects or
Pre-Medical qualification with minimum CGPA 3.00 (in 4.00 scales) or
Foundation Programme/A-Level or equivalent qualification (Canadian Pre-University, South Australian Matriculation, Canadian International Matriculation Program, Monash University Foundation Year, University Foundation Studies for New South Wales, A-Level, Higher Education Certificate of Tamilnadu, India)
Test Scheme
Admission Test Subjects
Gadjah Mada Scholastic Test (GMST)
Academic Test
ITP-TOEFL
Situational Judgement Test
Minnesota Multiphasic Personality Inventory (MMPI)
Update terakhir : 14 Maret 2017 17:17:13 WIB