International Postgraduate Program, Faculty of Law UGM
LL.M. CLASS
Master of Legal Science Program
Faculty of Law Universitas Gadjah Mada, Yogyakarta
Introduction
The LL.M. Class was established in accordance with the objectives of the Master of Legal Science Program, namely to produce graduate students with high qualifications and having possession of values and enhanced knowledge in law. These attributes are required in order to create human resources that are anticipative and able to solve legal problems emerging within the society through comprehensive and responsive thinking. Graduates of these classes are expected to fill many domestic and international legal professions, such as posts within multinational corporations and international organizations.
In order to meet the above challenges, a standard of conduct has been set, which includes a tight admission procedure, monitored learning process throughout the study period, and intensive supervision in thesis writing. In regards the area of study, the LL.M. Class has two area of concentrations, namely business law and international law. Distinguished professors, including guest lecturers from the many Faculty's partner universities will ensure the depth of study for students. Furthermore, current institutional cooperation have been directed at establishing student exchange and double degree programs. In the near future, students will have the option to pursue such programs at the Shanghai Jiao Tong University (Hong Kong) and University of Reading (United Kingdom).
Language of Instruction and Curriculum
The language of instruction for lectures at the LLM Class is English. The use of English also scopes main literature studies and assignments as well as exams. Enrolled students may opt for one of the following concentrations, namely business law or international law. The following describes the curriculum based on the available concentrations: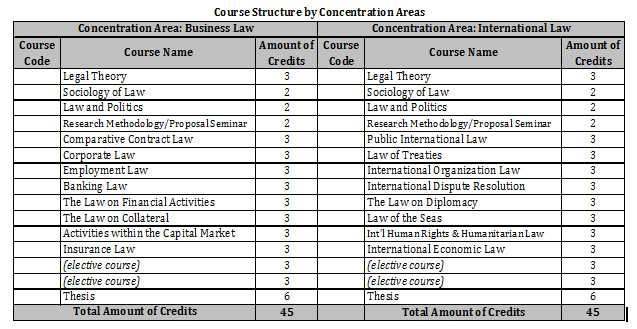 In general, students are expected to finish their study in four semesters, or approximately two academic years. The following describes the curriculum chronologically throughout the study period: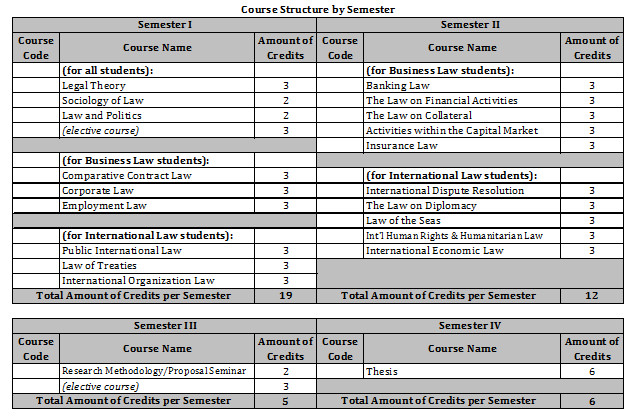 For further information, please refer to our Contact Person:
Ika Nilasari Saputri
Secretariat for International Undergraduate Program
Phone : (0274) 541586, 512781 ext. 2114
Web: law.ugm.ac.id

Structure Fee
No
Faculty
Program
Fee(s)
Application
Admission
Tuition /semester
1
Law
LL.M. Class
Rp. 1.500.000,00
-
Rp. 17.500.000,00 (for Indonesian students)
Rp. 30.000.000,00 (for Foreign students)
Admission Timeline
Admission Period (Postgraduate Program)

Application Start

10 April 2015 - 29 Juni 2015

Document Submission Deadline

30 Juni 2015

Admission Test (Interview)

Friday, 10 July 2015

Admission Announcement

3 Agustus 2015
Eligibilities
having paid the application fee amounting to IDR 1.500.000 (one million and five hundred thousand Rupiah);
having obtained a bachelor of law degree from a reputable university, with a GPA of at least 2.75 (two point seven five) on a 4.00 (four point zero zero) scale;
having obtained a TOEFL (IBT or ITP) score of 525 from a testing institution recognized by the Indonesian International Education Foundation (IIEF), and a Tes Potensi Akademik (TPA) of 500 from Bappenas (OTO-BAPPENAS);
having written a curriculum vitae;
having obtained at least one academic reference and one professional reference that describe academic capacity of the candidate;
having written a motivation letter for joining the program;
for candidate bound by an employment contract, having a letter of permission from authority of the employer;
having written a letter of guarantee to pay tuition fees;
in a healthy physical and mental condition, as stated by a physician.
Admission Procedures
Contact the secretariat of LL.M. Class to get more information regarding the specific requirements needed for the selection process. Please find the contact number here.
Pay the application fee Rp. 1.500.000 via Multi-Payment System of Bank Mandiri, BNI, BRI or BTN as described here.
Complete the application of registration of the LL.M. class by online here.
Upload the following documents (minimum 50 kb and maximum 200kb), the scan of the documents must be readable:

Recent official, colored phothograph.
Certified of Bachelor of law degree diploma.
Certified of academic transcript.
Certificate of Tes Potensi Akademik Pascasarjana (PAPs) or Tes Potensi Akademik (TPA) BAPPENAS*.
Certificate of English Language Proficiency from a testing institution recognized by UGM (ACEPT)or IDP/ IALF (IELTS) or IIEF (TOEFL).
Letter of Recommendation from two (2) Academic references and one (1) professional reference (download here).
Health Certificate as stated by a physician in puskesmas or hospital.
A letter of permission from authority of the employer (if necessary, download here).
Recent Curriculum Vitae.
A Letter of guarantee to pay the tuition fee (download here)
A Letter of Motivation (download here)
Candidates must upload a complete document. Late submission will not be considered.
Completed application form and required documents must be uploaded and sent to the following address:
Secretariat of International Program
Building II 1st Floor Faculty of Law Universitas Gadjah Mada,
Jl. Sosio Justisia No. 1, Bulaksumur, Yogyakarta - 55281

For further information, please refer to our Contact Person:

Ika Nilasari Saputri
Secretariat for International Undergraduate Program
Phone : (0274) 541586, 512781 ext. 2114
Web: law.ugm.ac.id

Update terakhir : 23/04/2015 16:27:37 WIB