International Undergraduate Programme in Medicine, Faculty of Medicine UGM
International Undergraduate Programme in Medicine
Faculty of Medicine
Universitas Gadjah Mada, Yogyakarta
Profile
Established on 5th of March 1946, Faculty of Medicine Universitas Gadjah Mada (FM-UGM) has grown and developed rapidly over the years. FM-UGM has positioned itself to become a leading university in Indonesia, Asia and in the world. In October 2010 UGM is accredited in A category by National Acreditation Board of Higher Education (BAN PT). TIMES Higher Education Series has placed FM-UGM in rank 153 in 2010 for its Life Sciences & Biomedicine category.

According to THE-QS World University Rankings 2010, FM-UGM is ranked 23 in Asia for Life Sciences & Biomedicine and in 2011 is ranked 21 in Asian University 2011 for Life Sciences and medicine category.
To strengthen our capacity, we have been accredited by international accreditation body through the Asian University Network (AUN), and currently from the Philippine Accrediting Association of Schools, Colleges and Universities (PAASCU). ISO certification is on going to maintain various aspects of quality management and standards.

Located in a campus with tropical climate, nice atmosphere and provided with various facilities that support education, research and community service, FM-UGM has 3 undergraduate programmes, 6 master level programmes, 20 specialization programmes, and 1 doctoral programmes.
As for research activities, they are carried out by scientific community whom are also actively involved in teaching. Their work advances the understanding of health problems affecting millions of people. Studies range from basic biomedical investigation of nasopharyngeal carcinoma to analyses of health care decentralization. The faculty has consistently succeeded in attracting collaboration partners and funding agencies to support these myriads of research endeavors.

Vision
To be a leading world class research faculty with excellence and innovations serving national and humanity interests.
Mission
To conduct education, research, service and to conserve as well as advance state-of-the-art knowledge which is beneficial to the society.

International Undergraduate Programme in Medicine
The programme aims to educate students by applying a teaching-learning processes that compels the completion of a curriculum package in order that students obtain sufficient knowledge, skills and behaviour.

Starting 2007/2008 academic year, the Faculty of Medicine Universitas Gadjah Mada applies the Competence Based Curriculum (CBC) according to the standards imposed by the Indonesian Medical Council in 2006.

The curriculum model used is competence-based education. This model requires integration of scientific disciplines and a multidisciplinary approach in curriculum delivery. A balance between specific and general courses is obtained, in each block as the learning outcomes are mixture of generic and specific competencies.
The purpose of CBC is to ensure that all medical graduates in Indonesia possess the same standard of competence, according to those approved by the Indonesian Medical Council. In CBC, a doctor's competencies encompass seven areas of competence, which are:
Noble Professionalism
Self Awareness and Personal Development
Effective Communication
Information Management
Basic Medical Sciences
Clinical Skills
Health Problem Management
Curriculum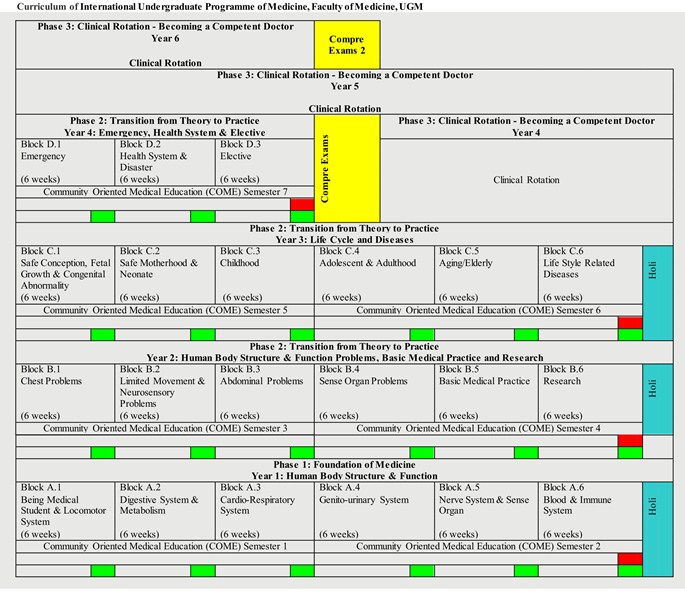 The Programmes Available

International Undergraduate Programme of Medicine, Faculty of Medicine, UGM

Bachelor Phase; Length of Study: 3 years and 6 months; Degree awarded: Bachelor of Medicine (B. Med)
The International Programme students are obliged to conduct at least one elective module abroad to be converted in their 3 credit semester units which equals to 3 weeks academic activity (48-60 hours).
This programme is applicable for Batch 2014 during their 3rd & 4th year of Academic Activity.
Provided Scholarship on this elective programme for Selected Students.
Professional Phase; Length of Study: 2 years; Degree awarded: Medical Doctor (M. D.)
Intercalated Double Degree Programme (IDDP)
This Programme is offered for students who are able to complete their undergraduate degree in time (3,5 years) and with qualified GPA. They may continue to pursue Master Programme to our partner universities and sit back to UGM to continue their Professional Phase. The partner universities are as follows:
​University of Sydney, Australia
Maastricht University, The Netherland
University of Groningen, The Netherlands
Tubingen University, German
University College Dublin, Ireland
The scheme of this programme is as follow:
Finished Undergraduate programme in UGM within 3,5 year > IDDP to preferred university > continue Professional Phase in UGM.
ADDRESS
Fakultas Kedokteran Universitas Gadjah Mada
Jl. Farmako Sekip Utara, Yogyakarta 55281
Website : http://fk.ugm.ac.id/
Email : prodidokter@ugm.ac.id
Update terakhir : 21 Januari 2015 11:16:04 WIB